Art 80825
za kos
2 LEVER MONOBLOCK VALVES 3/8"" ITEM ML READY TO BE CONNECTED WITH A CARRY OVER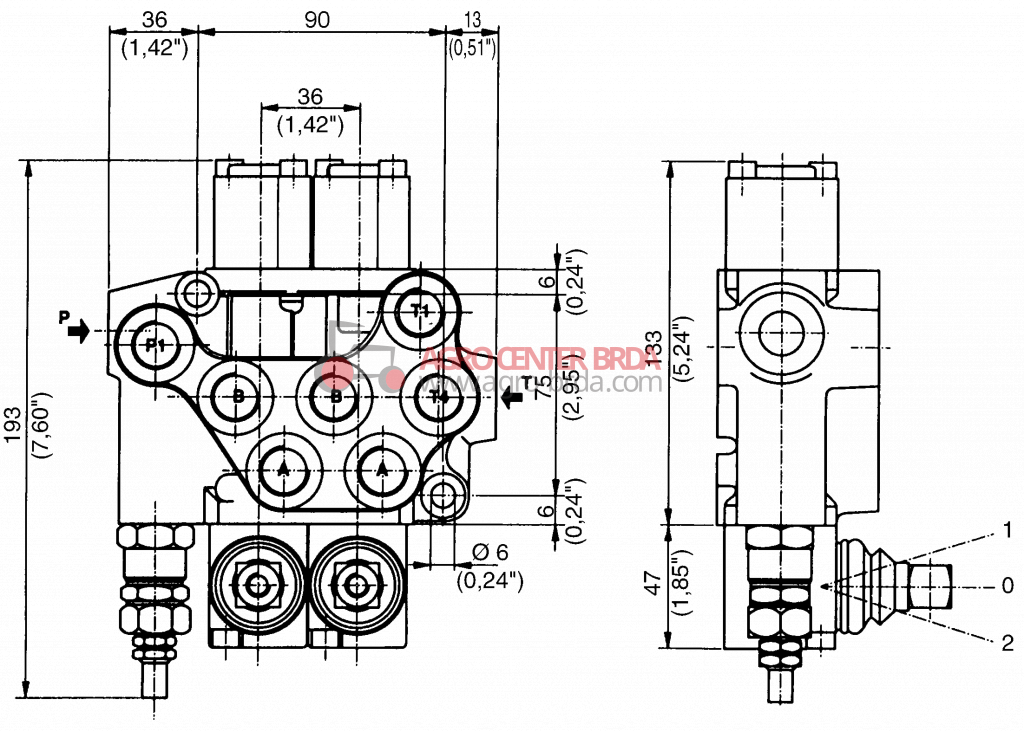 Opis
The ML type distributors have a standard arrangement for connection in Carryover. This connection is made by closing the septum visible from the hole shown in the figure with a 1/4 "Gas dowel.
The threaded hole itself is then used for the connection with the downstream distributor.
If the threaded hole in question is also plugged, the open center distributor is transformed into a closed center distributor.
Podatki
vezava
1ª Leva
doppio effetto - 2ª Leva
doppio effetto flottante
največji delovni tlak
250

bar
pritisk ročne črpalke (dvojna hitrost)

-
diagram položajev ročic
-
preusmeritvena in zaprta povezovalna shema j. deere

Maximum operating pressure
250

Bar
Circuit lever 1
Double effect
Circuit lever 2
Double effect floating
Positions lever 1
0 - Fixed 1 - Spring retutn 2 - Spring return
Positions lever 2
0 - Fixed 1 - Spring retutn 2 - Spring return 3 - Floating
Circuit diagram

-
Lever position layout
-
connection layout of carry-over and closed center j. deere

Dodatna oprema
Izdelek
Datum
Nakup

80026

CARRY OVER BUSHING - ML

€ 0.38

za kos

80031

MONOBLOCK VALVES SPOOLS CONTROL - MDT, ML

shema

€ 36.28

za kos

81662

MONOBLOCK VALVES SPOOLS CONTROL - MD, MDT, ML, DN

shema

€ 39.83

za kos

81664

MONOBLOCK VALVES SPOOLS CONTROL

model

ML - DN MD1 Leva - MDT

shema

€ 46.11

za kos

81667

MONOBLOCK VALVES SPOOLS CONTROL - MD, MDT, ML, DN

shema

€ 39.83

za kos

81816

MONOBLOCK VALVES SPOOLS CONTROL - MD, ML, DN

shema

€ 31.52

za kos

83452

SAFETY LEVER KIT - MD, ML

€ 37.70

za kos

83454

JOYSTICK KIT - ML

€ 149.53

za kos
Deli
Izdelek
Datum
Nakup

80716

REPLACEMENT CLAPET

€ 48.82

za kos

81506

SHOCK ABSORBER FOR LEVER

Lower diameter

27 - 33

mm

€ 4.30

za kos

81508

LEVER

€ 5.81

za kos

81527

LEVER PIVOT BOX - MD, ML - M 10

€ 21.94

za kos

81598

MONOBLOCK VALVES SPOOLS - DE, ML

€ 31.35

za kos

81633

STANDARD END CAP

€ 4.90

za kos

83392

LEVER PIVOT BOX - MD, ML

pritrditev vzvoda

M 10 con appendice

€ 26.19

za kos